Low Cost Contemporary Kerala Home Design at 2000 sq.ft
This house is having an ultra modern contemporary box type design with a perfect blending of rectangular structures and pillars. The curved designs completely avoided here for a perfect blending of the rectangular patterns.
The roof is of flat shaped and which is completely invisible from the frontal portion due to the extension of the left side wall to the top portion. The glass made handrail gives an extra charm to the rafted roof balcony which offers sufficient sunlight throughout the day.
The Green coloured sidewall having some white structural supports and the outer line of the first floor window is projected from the front wall which all make the design somewhat special.It is a two storied house built in an area of 2000 sq feet. The house is having three bedrooms with attached bath facility.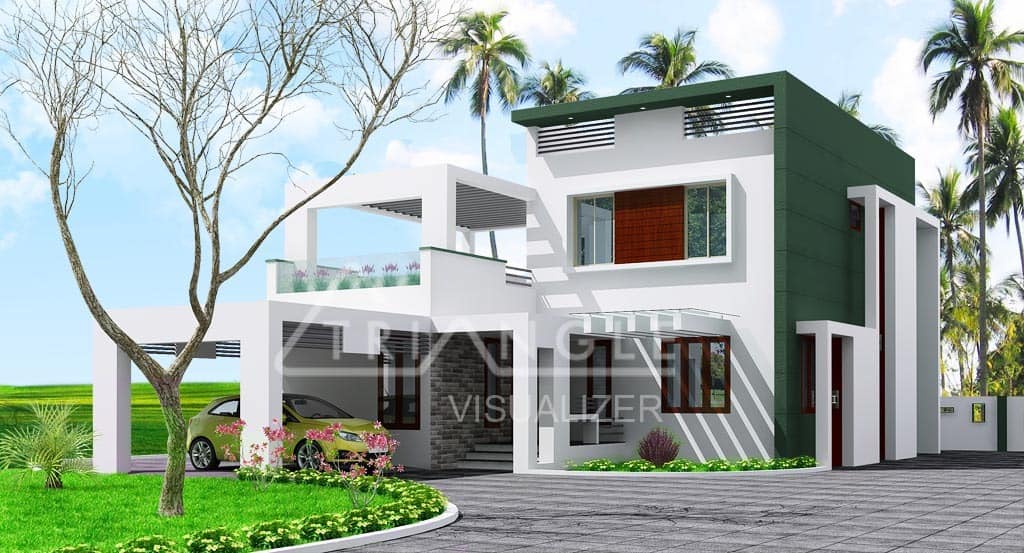 The ground floor is having an area of 1350 sq feet and the first floor is 573 sq feet. All facilities like Car porch, sitout, balcony, living room, dining room, kitchen and an open terrace are integrated in thismodern plan.In total this is a specially designed construction in which all the modern amenities incorporated with an
ideal mingle of colours and structures.
General Details
Total Area : 2000 Square Feet
Total Bedrooms : 3
Type :Double floor
Image Source:keralahouseplanner.com
Contact :Er.Praveen
Mob : 8129029999,8129039999
email : info@trianglegroups.com