The allure of a spacious open floor plan is combined with the convenience of ranch living in this set of house plans. This house plan includes open concept kitchens, spacious living rooms, and amenities such as vaulted ceilings that make these house plans feel grand. This range has plenty for anyone who dreams of a wide-open house. Take a look at the floor plans in detail,which feature open configurations and large living areas.It is wonderful plan of 75gaj plot size (17 X 60 )It can be built in 13 lakh with complete finishing. If you want to construct your house contact on whatsapp.
General Details
Total Plot Area :1020 square feet
Total Bedrooms : 2
Approximate Construction cost :13 lakhs
whatspp contact no: +917037444172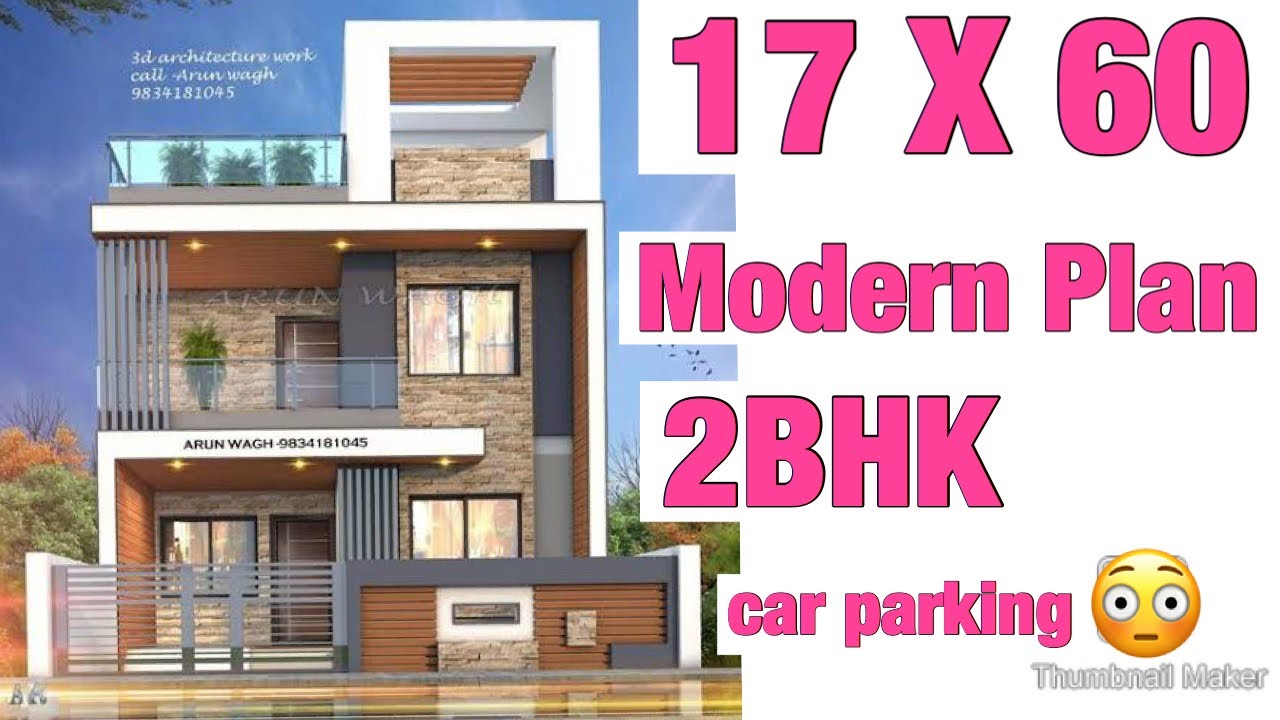 The house dimension is 17m front and 60m depth. A lovely home that looks like a dream home,it's a 2 BHK Flat. After the entry, there is a parking space that is 8'.4" long and 13'.0" in width.
Then there is a big and beautiful living room which is 16'.4" x 11'.0". Where we can set a classic sofa set which will look very elegant in this living area. We can also keep an LCD in the living area.
Then there is a washroom 8' x 4' with a ventilator and bathing space. After the living room, there are a dining area 11'.2" x 11'.4" where u can keep a beautiful dining table and chairs, and next,there is an open kitchen to make the area look bigger. The kitchen is 7'.6" x 5'.0" where you can easily design your kitchen with a sink, small cabinets, and gas stove and there is also a small window in the kitchen so that all airs pass out quickly. There is an OTS behind the kitchen where u can fix the washbasin and it is 3'.0" x 5'.0".


Then there is an entrance to your bedroom the bedroom is big n beautiful with 11'.0" width and 12'.0" length, there is also a window in the room. Which makes the room look more beautiful and bright. The window gives sufficient lighting in the room. Then there is another washroom which is 8' x 4' with a ventilator to keep the area fresh and cool and a space for a bathing area.
The second room is also big and beautiful with 11'.0" width and 12'.0" length, there is also a window in the room which give sufficient light in the room and makes the room beautiful and mesmerizing there also a washroom attached to it.
So this is one of the best house plans which feels like a dream house with Indian and American style. Fully ventilated and windows in both rooms, kitchen, and washroom. It also has a living room and bathing space in the washrooms. There is also a parking area for the owner of the house. One can easily park his/her car in the parking space.
The bathroom can be designed in both Indian and western styles. The kitchen can also be
designed as opened and closed. Best thing about this plan is that everything is designed
beautifully and classically.
The house is located in the best area. Windows are made in such a place that one can easily enjoy the beautiful view. It's a perfect house for a family of three and four-member or for a couple.