"Love Grows best in small houses,
with fewer walls to separate,
Where you eat and sleep so Close together
you can easily communicate."
Deciding on a home is no trivial matter. Before we choose one property over another, there are several factors that should be analyzed. After all a house is not just four walls but a dream space that will become a heaven of peace and relaxation, a place where one lives through good and bad moments. But where one feels safe.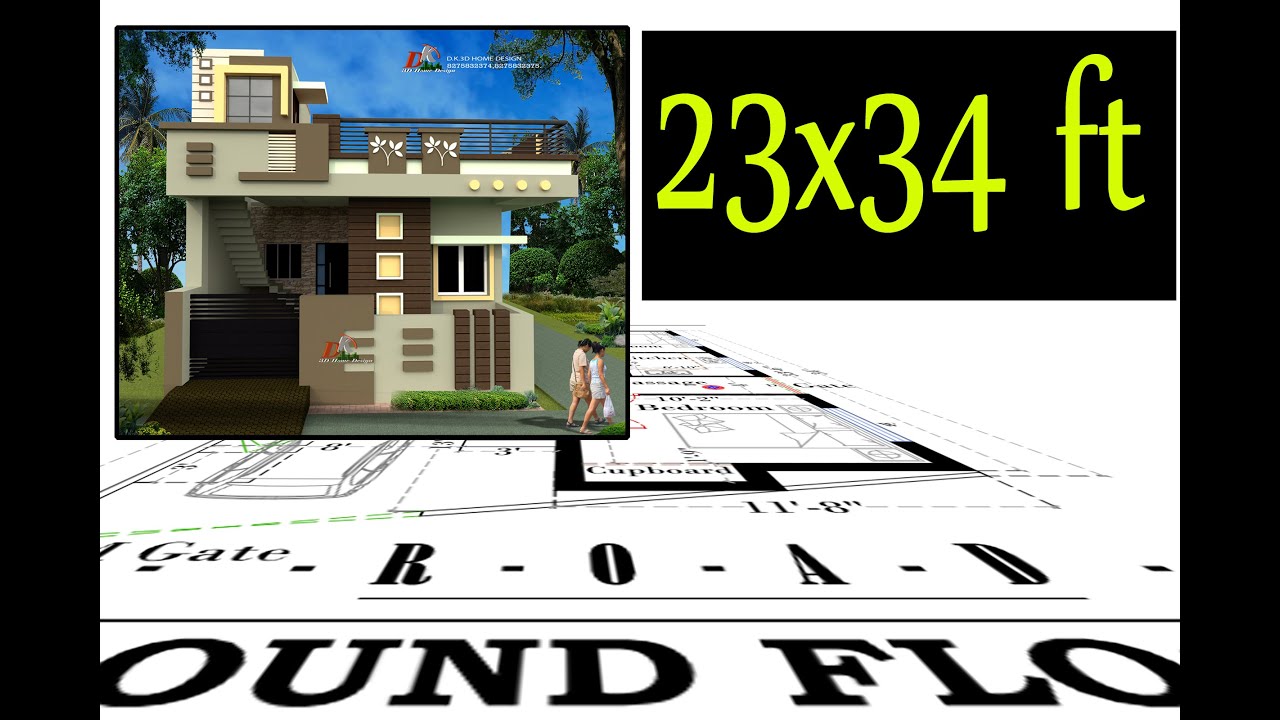 General Details
Total Plot Area : 782 square feet
Total Bedrooms : 2
Approximate Construction cost :15 lakhs
contact no: +91 8275832374
Selection of a site
The selection of a site depends upon ones present and future spatial requirements, the envisaged available funds one's lifestyle.
23 x34 small ground floor house design and advantages.
Space planning in kitchen – Kitchen is the heart of a home and each lady want her kitchen according to her desires. So the kitchen should be more practical and functional where she can enjoy the cooking at its best. With some course of actions, space utilization can be achieved that can help you to easily access each and everything.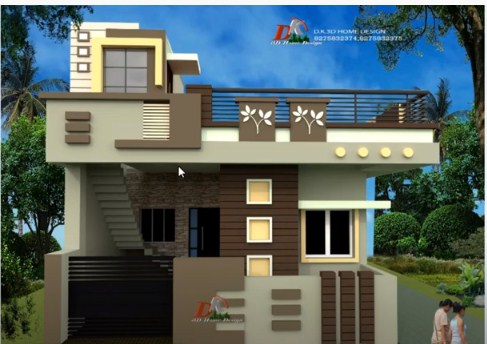 Bathroom requires careful planning otherwise you can face some big problems of water leakage, slippery floor and poor ventilation. To avoid this one should plan properly according to the length and width of its foundation.
According to the drawing and measurement of the house planning, in elevation the outer face shown without plaster and brick face finishing is required by the architect then pointing is done on joints to protect the wall from penetration of rain water or moisture.
Living room will be in rectangular shape where a small TV can be kept. Reading table with drawers and wardrobes to arrange books can be planned. TV accessories and other writing materials can be fitted in these wardrobes to save space.
Bedroom should be spacious and ventilated comfortably. Better to use the folding cot to make the room look spacious. In day time the space in room can be utilized for some other household activities.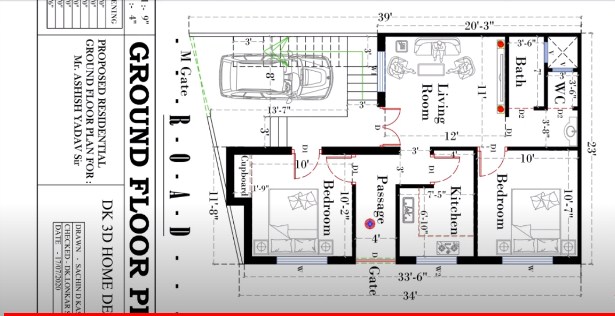 Ground floor dwellings reduce electricity consumption on air conditioners thus saving electricity bills. Occupants on a ground floor can easily undertake home renovations such as floor damages, plumbing issues and need not bother about disturbing apartments units below.
Garden is the best place where a person can get relief from a busy life. Moreover, having garden in the house welcomes many health benefits. Garden plays a major role in order to lead a peaceful life. This is one of the most advantageous matter in case of ground floor house.
Accessibility is one of the key points in favour of houses on the ground floor as they are free of stairs and elevators ground floor units can be more benefitting if there are elderly occupants, young children and people with disability or pets.
Thus the small 23 x34 feet houses are more appealing in the pandemic situation because of the privacy they offer. You need not share an elevator with your neighbors and private outdoor space Is a major selling points these days, when shared building amenities feel unsafe.
FOR PLANS AND DESIGNS PLEASE CALL US +91 8275832374/+91 8275832375/+91 8275832378