"Buying a house won't bring you happiness,
But turning it into a home certainly will."
Large houses are beautiful, majestic and give you an Incomparable sense of spaciousness. There are many advantages to go with a house of measurement 22 x 60 feet. Your family will become bigger soon and you will need more space. After all, having a large house is a great investment and responsibility.
More space – well, that is obviously the best thing about large houses. You will have more storage space of for your clothes, accessories and any other stuff. There will be plenty of rooms that can be used in various ways. You can design them to be anything.
You want-study area, gym, computer room, library, music room etc. The more rooms you have, the more guests you can welcome to your home. It sounds fun. Each kid will have his or her own bedroom. As you probably know, private space is very important for children, especially when it comes to teenagers.
General Details
Total Plot Area :1320 square feet
Total Bedrooms : 2
Approximate Construction cost :18 lakhs
contact no: +91 8275832374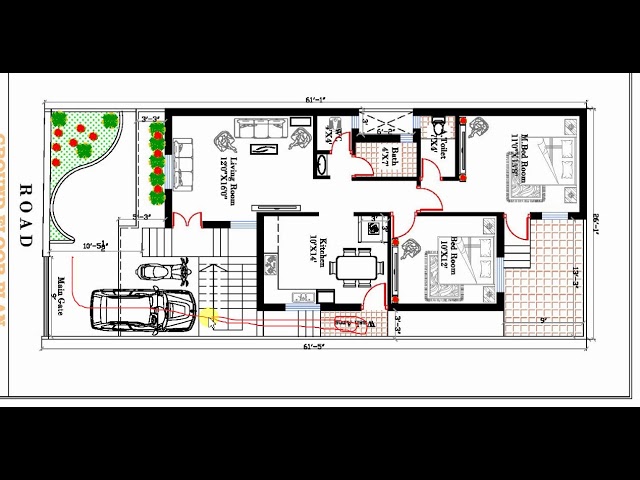 Big outdoors-your children will be very happy to play in a large yard of garden. You will be able to spend quality time with your friends and family outside. During summer, it would be perfect to gather them for barbecue evenings. In addition, you can use the big garden area to grow out vegetables. You can consider having some domestic animals as well.
Business opportunities – that is the hidden advantages of big houses. It is hidden because not everyone can think about it.
Along with your general job, you can start running your business from home. If you have extra space, then you can use it for conferences, seminars and even weddings. Having farm animals and vegetable growing could bring you money too. If you are really business oriented,
then you can use a part of your house for weekend retreats. Do not forget to include pampering facilities to please your guests.
Large house needs cleaning and maintenance. More space you have more effort and time is required It is a great chance to have a big and unique house. You can make everything in accordance with your personal taste.
The garden-your outdoor space requires lots of work to be done. You might be able to deal with various tasks inside the house, but to care for the garden is a totally different thing. You should get suitable equipment and gain some basic knowledge. If you have enough financial resources then you can hire a gardener. That is most efficient way to keep your garden in always in the best condition.
Your impressive 22 x 60 feet south facing house may be a big expensive, but if you think rationally, having a large home of this measurement is worth it. It can bring you comfort and luxurious feel which are second to none. Certainly, your children will have a memorable childhood in such a wonderful place. Your dearest friends will be pleased during their stay with you.
The main advantage of a south-facing house is the amount of sunlight you will enjoy. As the sun rises in the east and sets in the west the south side of any house will see the most hours of sunlight during the day especially in the northern hemisphere If you like entertaining on a summer's evening or want as much natural light as possible in your living room. Then a south-facing aspect may be a big consideration when choosing a new house.