"First plan your work,
Then Work out your plan."
26 X 33 Feet = 850 Sq, Ft House plan
Drawing Room = 14 X 11 Ft
Dining Room = 9 X 9 Ft
Bed Room = 30 X 6 Ft
Bed Room 2 = 10 X 11 Ft
Kitchen = 11 X 8 Ft
Bathroom = 4 X 6 Ft
Toilet = 3 X 6 Ft
Utility = 11 X 3 Ft
An efficient type of housing is seen when an area planned with a specific housing plan. A housing plan addresses various issues that is social discrimination, provision of facilities, distance from work place etc.
The need of purpose of a housing plan is basically an efficient housing in a city. a housing plan gives:
Gives equal and free access to housing for everyone.
Identifies the gaps, problem of proving housing.
Focuses on the residential structure in the plan.Uses land use policies and financing patterns in favor of people.
A housing plan is generally prepared on basis of some factors which affect it. The factors like demographic structure, socio economic characteristics of population land uses, housing stock, environmental considerations, transport and infrastructure
Victor Hugo wrote "Where no plan is laid, where the disposal of time is surrendered merely to the chance of incidence, chaos will soon reign "
Hugo is certainly right as for as home design and plan is concerned. The planning stage often determines whether your custom-built home will ultimately fulfill your dreams.
The following are six tips to help your designer create the perfect house plan for your family.
Start simple
You don't need fancy software to begin making decisions about your home plan Really all you need is pencil and a piece of paper. Sketch your ideas. Brainstorm. Make lists of features you want each room to have- just get your ideas out of your head and on to paper. Even rough sketches can help your home design team understand what you want.
Think about the future
You need to think about accommodating close family members in many different scenarios, such as returning college students, accommodating grandchildren and grandparents and taking care of elderly parents. If you are hoping to transition from an office job to operating your own business out of your home, your home design should include an office or flexible space. Basically, when you think about the amenities in your home plan you are deciding what kind of you would like to become. Include features your future self will find handy.
Showcase and maximize the lot.
Oftentimes, those who are in the market for a house plan already own the property where their home will be located. If you already know where your home is situated, be sure to consider the topography, size and the best features of the lot for instance, if your lot overlooks a natures cape, you might choose to face the living room toward the feature so your family members can watch nature in action. Alternatively, if you have a brook stream running through your property you might choose to place bedrooms nearest the stream so you can enjoy the beautiful sound of running water while you sleep.
In addition to thinking about which windows should face the home's best views, you will want to consider whether the land is sloped. A home design for a steep slope will look very different than a design for a flat.
Prioritize features
Once your ideas are recorded in rough form, begin prioritizing features for your new house. Home design can easily exceed budget if you let your fancies run amok. With so many luxuries to choose from its important aspects of your design. For instance, if you have always dreamed about a box window in the kitchen where you can grow herbs, you may want prioritize that over installing a line to facilitate a gas stove.
Consider function and flow
As you and your designer begin playing around with where various rooms should be located, consider how many final designs will flow and how your family might function in each space. For instance, to reduce noise in sleeping areas, it is wise to place bedrooms away from the communal areas of the house. Likewise, if you are the kind of family that tends to gather around kitchen, an open floor plan with easy flow between the living room, kitchen and dining area will suit you well. This kind of design also allows for excellent flow between rooms.
Reflect of light
Light has a powerful influence on humans It is smart to add skylights to your house plan in order to maximize the natural light in your home. Heck, even if you have cloudy day skylights are smart because they reduce the need for artificial light and provide as much as 30 percent more light than vertical windows.
Light also figures into placement of rooms in a home plan. As an example, if you want to enjoy natural morning light in your dining nook it would be wise to face the nook east, where it will catch the morning sun.
It is also wise to think carefully about how electrical lights in your home facilitate comfort. For instance, a home designer would suggest installing bright task lighting for kitchen counter tops to facilitate food preparation. Lighting can also create mood for example dimming sconces in the bedroom can create a sense of romance or peace.
Meditating on the items listed above can help you create the home of your dreams. As you work for with your home designer, take your time. Remember that it is far easier to be upfront about what you do and do not like than it will be to remodel your home later.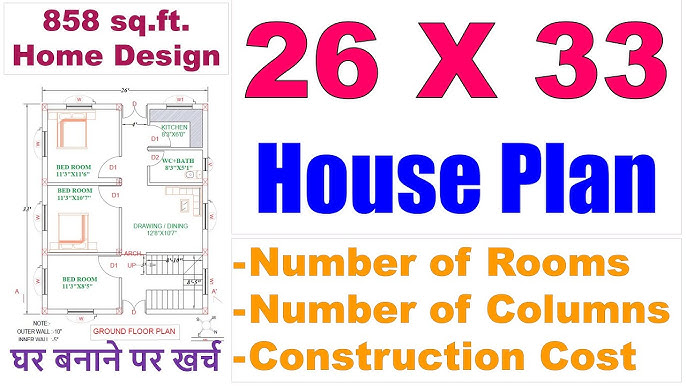 Thus, a house plan is asset of construction of working drawings or blueprints that define all the construction specifications of a residential house such as the dimensions, materials, layouts installation methods and techniques.
To brief about the housing plan these points should be included.
Foundation plan, Floor plan, Roof plan, Exterior elevation, Building section, Electrical plan and construction notes and details.
General Details
Total Plot Area : 850 Square Feet
Total Bedrooms :2
Type : Modern
Contact no:+918408812743