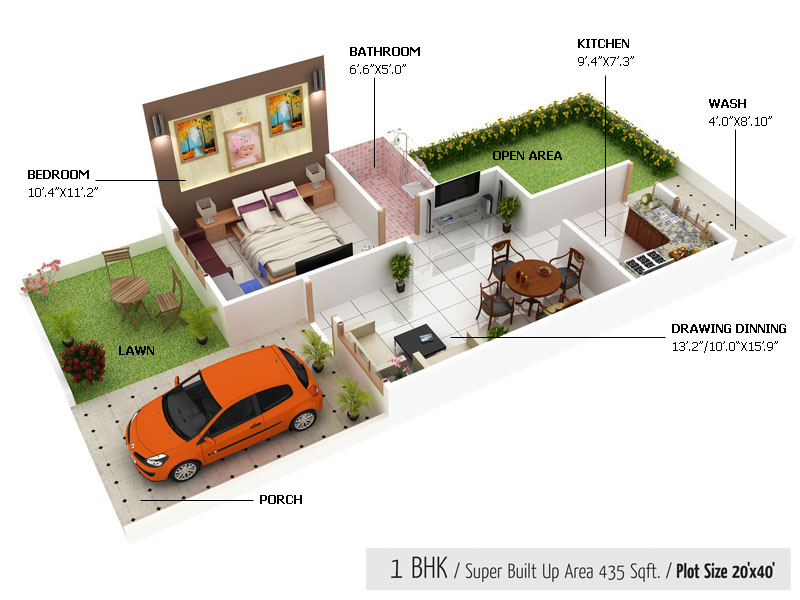 435 Square feet Trending Home Plan Everyone Will Like
We take proud saying that our company has established itself as one of the most leading builders in the real estate industry. The main purpose of home plans is to provide an enhanced lifestyle coupled with sustainable environment. As being an experienced company we are working with complete dedication actually it can be said that this is an integral part our business strategy. We will aspire you to get the best houses after offering iconic as well as world class property progress in country. In order to make our client satisfied totally we are providing some quality like space by continuous innovation. The best thing about our company is that we believe in continuous improvement to differentiate our products as well as services. To show how much we are dedicated again we have come with a new plan that is 20 feet by 40 feet home plan everyone will like.
Make your dream comes true and for this there is a company that is totally focused on the needs that you have. We believe in quality rather than quantity so try to provide so well designed home plan rather than offering a lot of. Customer is our first priority so we do not try to margin our profit instead we focus on the satisfaction of clients.
Image credit:amaltasindia.com
General Details
Total Area : 435 Square Feet
Total Bedrooms :1
Type : Single Floor
Style :Trending MOdel
Home Plan General Specifications
Bedroom Size : 10.4 feet by 11.2(116 square feet)
Bathroom Size:6.6 feet by 5.0(33 square feet)
Formal Living;NIL
Dining Room:13.2 feet by 15.9
Sit out
Kitchen;9.4 feet by 7.3(68 square feet)
Wash:4.feet by 8.1(32 square feet)
Open area
Lawn :
Upper Living
Car porch
Open Terrace