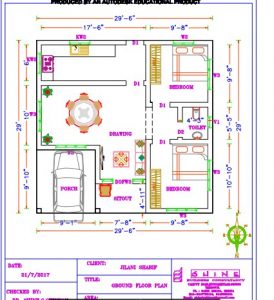 Click here free pdf download plan
General Details
Total Area : 856 Square Feet
Total Bedrooms : 2
Type : single floor
Style : Contemporary
Specifications:
Number of Bedrooms : 2
Bathroom Attached : 2
Living Room
Dining Room
Sit out :
Car Porch
Kitchen
It is said that Rome was not build in a day, we take it forward and say that it was also not built by single person because this is our belief that our people are our greatest strength. And, for this we recruit the best and most talented professionals from and within the construction industry. With the support of our dedicated team we are trying to create a healthy environment for them to make them realize their complete potential. And this is the thing that allows us to attract excellent talent from around the world. We offer substantial opportunities for our employees to grow within the company, a policy that helps us to retain well trained and dedicated employees.
And, we have come up with a new home plan this is 856 square feet double floor contemporary home design, under you will get 2 bedrooms with attached bathrooms and a common toilet. Our company has been pioneering the growth of country for years and we are able to do because of our unmatched quality construction. With over many complete projects and several ongoing projects, our team has something to deliver for the need of every one. So, go ahead and take our plan and make your home in the way how you want.