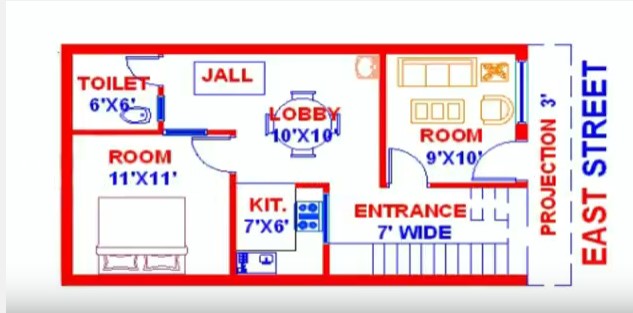 VASTU MAP 18X33 EAST FACE
Vastu shastra is an ancient system of designing the house. This will help you to maintain a dynamic
balance between form and energy to create harmonious home. Making own house needs vigilant
considerations and apart from the nice architectural design and construction techniques, location of
the house affects the energy of the residents throughout life. But many people unaware about this.
So, in order to help people we have shared vastu map 18X33 east face, you can take this plan if you are making east facing home.
Which House Shape is Best
As per the plan the house should be of square or rectangular shape, and ratio of width and length must not be more than 1:2 in rectangular plot. The main purpose of vastu is to use decoration and sculpture at main entrance and other doors of the house also. Some additional rules to be followed before you are going to design doors and windows.So, if you are looking for the best vastu tips for your east facing house then you are at right place.Trust us our vastu map 18X33 east face will really help your in many ways. We will really appreciate if you do regular visit on our website.