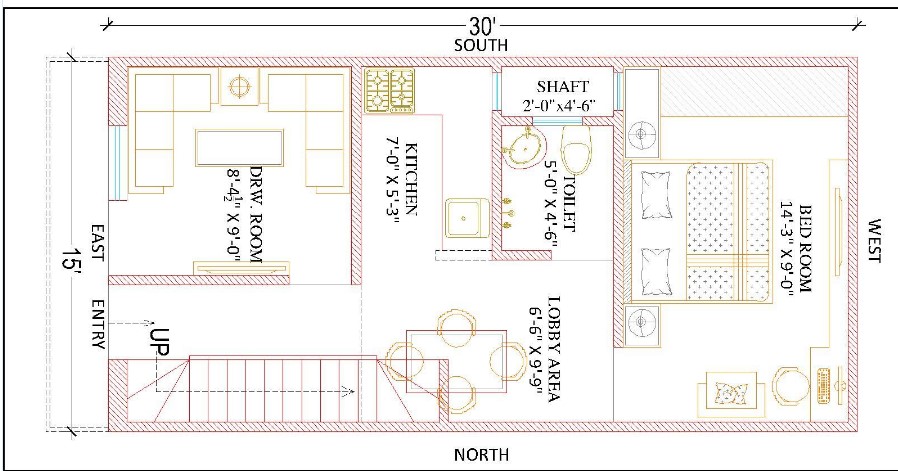 450 Square feet Trending Home Plan Everyone Will Like
To deliver huge number of comfortable homes as per the need and budget of people we have now come with this 15 feet by 30 feet beautiful home plan. High quality is the main symbol of our company and with the best quality of materials we are working to present some alternative for people so that they can get cheap shelter. You can get your home quickly. And, if you are worry about the payment as this time you are not able to pay the whole amount then just don't worry our financing can be done in smaller steps as part of a growth scenario. This is sure that by taking our home plan once you will be fully satisfied and work like a brand ambassador just like our previous clients.
The way we deliver high quality houses for low cost is totally a unique thing and you cannot get the same thing with any other builders. We are continually making contribution for home making and helping people to get their own home. Our vision is to build together to contribute dream completion of people regarding their home. So, get advantage of this golden opportunity, take our 15 feet by 30 feet beautiful home plan everyone will like and make a strong reputation in society.for more information please contact me .
mail:achahomes@gmail.com
Image credit:gharexpert..com.
General Details
Total Area : 450 Square Feet
Total Bedrooms :1
Type : Single Floor
Style :Trending Model

Home Plan General Specifications
Bedroom Size : 14.3 feet by 9.0(128 square feet)
Bathroom Size:5.0 feet by 4.6(23 square feet)
Formal Living;NIL
Dining Room:8 feet by 9.0(72 square feet)
Sit out
Kitchen;7.0 feet by 5.3(37 square feet)
Loby area :6.6 feet by 9.6(63.36 square feet)
Shaft 2.6 feet by 4.0(10.4 square feet)
Lawn :
DImensions:15 feet by 30(450 suare feet)
Car porch
Open Terrace
A well-coordinated 450 square feet economical house plan for the masses
An outstanding, east facing house plan designed for a small family gives a perfect outlook of a well-planned house considering each space in such a way that the room does not look congested and overcrowded. 
Drawing room
As you enter the house, towards your right are the flight of stairs that takes you straight to the lobby. Towards your left is 8'- ½ x 9'- 0" drawing-room, which ventilates with windows crossing each other. Here you can install a five-seated sofa with a coffee table and a T.V cabinet. It is a small reception room where guests are entertained and family members can sit together for an evening chit- chat with sips of hot coffee.
Kitchen
Adjacent to the drawing room is 7'0" x 5'3" kitchen. Here you can install small cabinets for the essentials. It is a rectangular kitchen where one person can work comfortably at the countertop.  Just beside the kitchen is the washbasin used by guests and inmates for cleaning.
Lobby area/ dining room
Just opposite the kitchen is 6'6″ x 9'9″ lobby area. Here you can install a small dining table with wall cabinets. The dining table is parallel to the wall, leaving enough space for movement. It is an open kitchen giving proper accessibility to the dining area.
Toilet
Just beside the kitchen is 5'0" x 4'6" toilet. A square-shaped washroom, which has windows ensuring ventilation and comprises of a washbasin and a shower panel. 
Shaft
Outside the toilet is 2'0" x 4'6" open area or a shaft. It is in such a way that it opens from the kitchen, the bedroom as well as from the washroom. Here you can clean the kitchen utensils and install the washing machine for cleaning purposes. As it opens from the bedroom, it can be used as a storeroom.
Master bedroom
Just beside the toilet and the lobby area is the 14'3" x 9'0" master bedroom. It is very spacious where you install a double bed with a dresser. There is a scope of a wall cabinet at any one side of the wall. You can also keep the T.V. cabinet inside the bedroom.
I wrap up the house plan of 450 square feet providing you with all the details. The home planner has very artistically designed the plan in such a way as to give proper justification in the placement and divisions of the different sections of the house.
Surely, it is one of the well-justified plans made in a small space with all the furniture attached, thus utilizing each bit of the space.
Hope you like it.