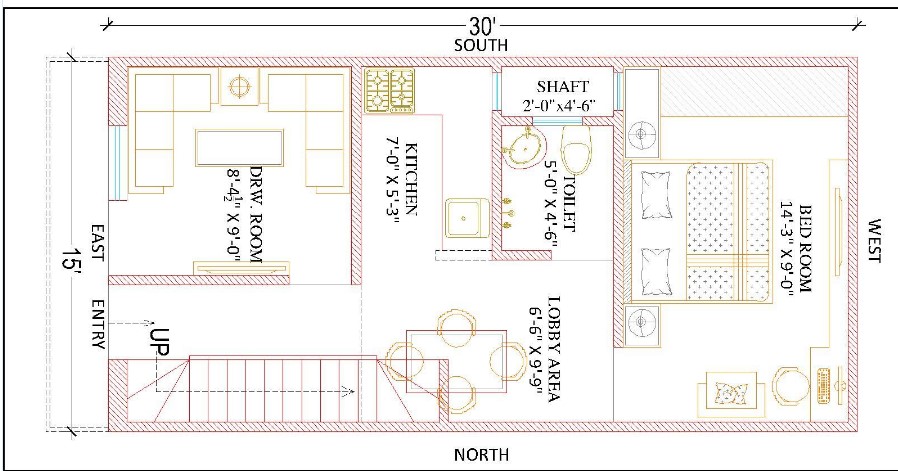 450 Square feet Trending Home Plan Everyone Will Like
To deliver huge number of comfortable homes as per the need and budget of people we have now come with this 15 feet by 30 feet beautiful home plan. High quality is the main symbol of our company and with the best quality of materials we are working to present some alternative for people so that they can get cheap shelter. You can get your home quickly. And, if you are worry about the payment as this time you are not able to pay the whole amount then just don't worry our financing can be done in smaller steps as part of a growth scenario. This is sure that by taking our home plan once you will be fully satisfied and work like a brand ambassador just like our previous clients.
The way we deliver high quality houses for low cost is totally a unique thing and you cannot get the same thing with any other builders. We are continually making contribution for home making and helping people to get their own home. Our vision is to build together to contribute dream completion of people regarding their home. So, get advantage of this golden opportunity, take our 15 feet by 30 feet beautiful home plan everyone will like and make a strong reputation in society.for more information please contact me .
mail:achahomes@gmail.com
Image credit:gharexpert..com.
General Details
Total Area : 450 Square Feet
Total Bedrooms :1
Type : Single Floor
Style :Trending MOdel
Home Plan General Specifications
Bedroom Size : 14.3 feet by 9.0(128 square feet)
Bathroom Size:5.0 feet by 4.6(23 square feet)
Formal Living;NIL
Dining Room:8 feet by 9.0(72 square feet)
Sit out
Kitchen;7.0 feet by 5.3(37 square feet)
Loby area :6.6 feet by 9.6(63.36 square feet)
Shaft 2.6 feet by 4.0(10.4 square feet)
Lawn :
DImensions:15 feet by 30(450 suare feet)
Car porch
Open Terrace