22×60 house plan
We become very happy when our plan transforms the dream of any person into reality. The plans shared by our company are the presentation of your dream home so doesn't miss it, just take your best match now. We are working with a vision  just to create some of the real feeling of home and for this we are capturing the heartland feel and you can feel thing with our
Home plan Square feet details
Ground floor : 1050 square feet
First floor: 1050 square feet
Second floor: 1050 sq.ft
Total builld up area : 3150 square feet
Plot area : 1320 Sq.feet ( land 20'x 60′)
No. of bedrooms : 8
Design Type:modern and rental house plan
22×60 house plan that is designed to make an impression in whole market.
Ground floor
Drawing
Bedroom : 2
Lobby
Common toilet
kitchen
First floor
Bedroom : 3
Toilet : 2
Kitchen : 2
Second floor
Bedroom : 3
Toilet : 2
Kitchen : 2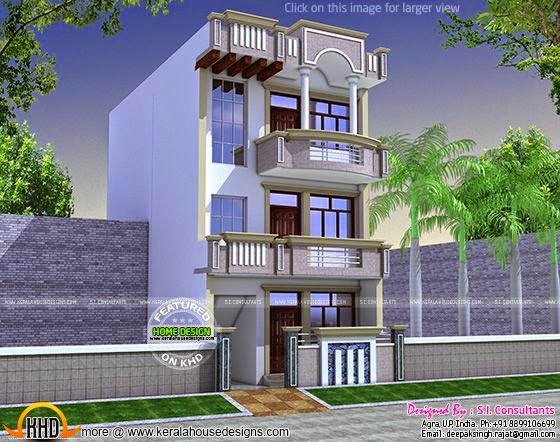 Image Source:keralahousedesigns.com
Take it easy
No one can deny from this fact and it is totally true that if you are not a builder or an architect getting a perfect house plan can seem like a cracking code for you.  But, with the help of our landmark homes mission you will get your home solution in proper way. We are able to do so with our amazing building stage with the completion of your needs. Don't get late any more just shape your ideas and we will surly help you to do so.
 Interior and Exterior designs
This is said that it is very difficult to make the combination of interior as well as exterior design reason being the budget, if you have limited budget then you will not be able to give beautiful design in both interior and exterior design. If you want to increase the interior look then you will have to compromise with the exterior design. But, here at our company the scene id totally differ from that of other company. Our 22×60 house plan gives you exclusive beauty in both interior and exterior designs in your budget only.
Even don't worry if you are very concern about modern design and believe to have a well-designed home with modern theme, our plan will help you in doing so. The 22×60 house plan we are offering is the perfect combination of modern as well as contemporary style home. All the houses build under this plan you can sure that will make your happy. Just take a look around the home designs plans shared by our expert group and we ensure you that your finding will end here as your will get your favorite home plan at your budget. We are waiting for you, and will be happy to help you. So, come here and make your dream home with our 22×60 house plan that is able to suit with different cultured and size of family.