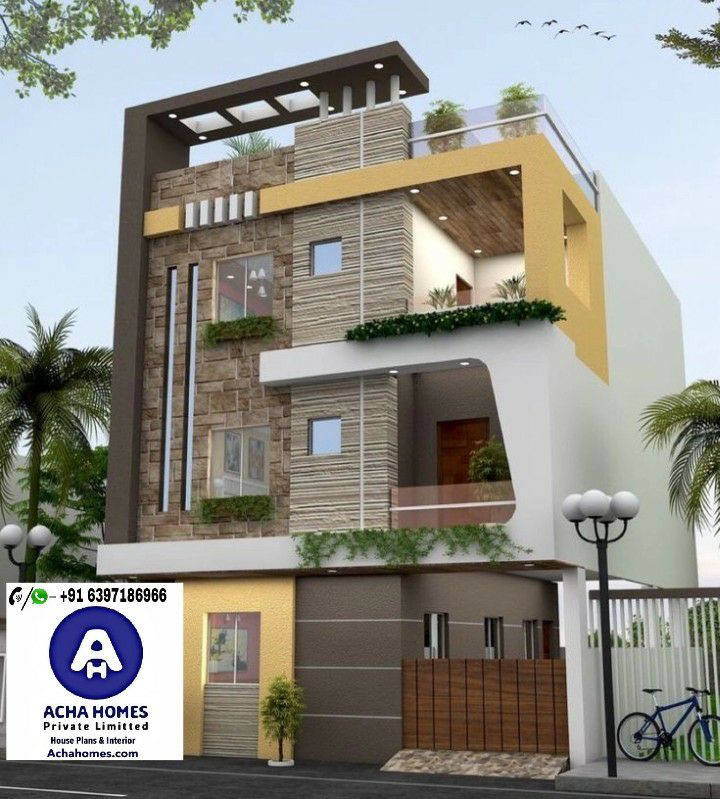 An Overview of a 25 feet by 25  Feet Modern House Plan
Home is the most essential thing in our lives. It is required in all stages of our lives. During our birth we need a doctor's home, after our birth we need our own home, on visiting a new city or a country we need a guest home and the last stage of our life cycle i.e. death, we require God's Home. Likewise, the meaning of a person's home is enriched with memories. Physical places endure while memories and people fade, so homes and neighborhoods become "memory machines" that help us keep alive some of the strongest sources of what has given our lives meaning, well-being, and happiness. "We have a need for a place that is called home," he adds. Home provides security, control, belonging, identity, and privacy, among other things. "But most of all, it's a place that provides us with a centering—a place from which we leave each morning and to which we return each evening."
General Details
Total Area : 625 Square Feet
Total Bedrooms : 3
Type : double Floor
Style : Modern
Approximate Construction cost : 30 lakhs
If you need 2D Plan,3D Plan and construction of this house please contact me.
Whatsapp:+918592975786
Mail : achahomes@gmail.com
To provide you your place of well-being with a modern and contemporary theme, we bring to you a 25 feet by 25 Feet  Modern House to add a sense of beauty and modernity in your living style. A 25 feet by 25  feet modern house plan not only provides you a heaven like space on the outside but also takes you a step closure to an efficient living. It will surely quench your thirst of a modern living. 25 feet by 25 feet is the perfect area for an innovative modern house.
The Specifications of our Modern House Plan:  This type of house is designed with the aim of reducing the ecological footprint. Large houses takes away the beauty of living among large number of people while 3bhk houses helps one to keep awake that social animal that every man has within him. The idea of the Modern House Plan is to promote and ensure a sustainable living. The Modern House comprises of an attractive set of three spacious bedrooms along with attached bathrooms and, one kitchen, a drawing room and a lobby complimented by a spacious balcony. Such comfortable home has all the makings of a charming space. Every corner of such a construction gives the feel of a contemporary lifestyle.
The cost of a Modern House:  A Modern House is an amalgamation of a comforting yet economical, lifestyle. Such a dream house comes at the approximate cost price of Rupees 30 lakhs. Get ready to blend yourself in a place of serenity, priced at just 30 lakhs. A 3bhk house is considered the most ideal house for a nuclear as well as a big family. This is what defines our Modern House Plan. Have a peaceful and calm lifestyle in our Modern and Contemporary Home.