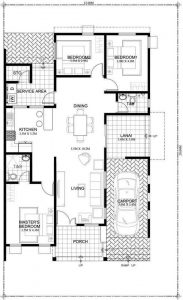 2588 Square Feet Single Floor Contemporary Home Design
We are famous for providing ultimately smooth transition between your home building vision and expectation planning. All the things like our award winning classification of home design services, floor plans, and different design options for customization. The best combination of client and technical services presents our commitment and dedication to develop a personal and satisfying relation with our client. We feel proud saying that we are consistently providing home planning to our respected customer with values, best quality as well as professionalism. We give our best in order to make home for you, that are unique and different from the local trend.
After working years, we can say that now we are able to maintain varied and consistently changing inventory of quality house plans. Our 2588 Square Feet Single Floor Contemporary Home Design is presents something like that is going to beyond of your thought. Actually you will be surprised the color, home design, spacious kitchen and interior designs are really very impressive. If you want to own your home with everything in single floor then this plan is perfect for you. The entire home design, space classification is amazing and this is sure that you will be completely fan after watching it.
Dining room and family sitting room
Bedroom
Attached dress and bathroom
Common toilet
Kitchen
Store Area
Work Area
Car Porch
Sit Out
Living room
If you are Architect, Engineer or Interior designer, you can send your works to plan achahomes@gmail.com we will publish on our website, Its really free of cost.