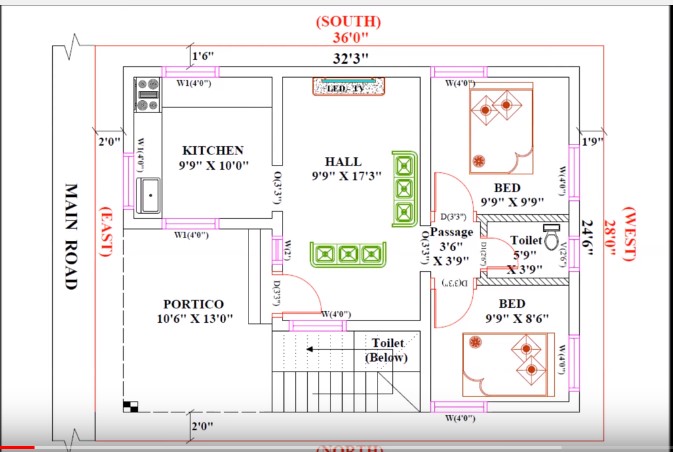 Image Credit:SN Home Designs
General Details
Total Area : 1008 Square Feet
Total Bedrooms :2
Type : Single Floor
Style :North indians Model
Home Plan General Specifications
Two Bedroom Size : 183.14 square feet
One Bathroom Size:23 square feet
Formal Living;171.27 Square feet
Dining Room:Not specified
Dress:17.94 square feet
Kitchen;99 square feet
Portico:137 square feet
Passage::14 square Feet:
Diemension: 36 feet by 28
Car porch:Not specified
Open Terrace:
This Stylish beautiful plan is designed to be built in 1008 square feet and dimension 36 feet by 28.This stylish home plan includes formal living room,Portico,passage,,kitchen,site out,car porch and two bedrooms and two bathrooms A house which is one of the basic factor in human life.This home plan successfully completed by SN Home Designs.
Construction Cost:For the development estimate, the simplest reference are similar construction comes. the ultimate value of these similar comes will provide the thought for the new construction project value calculation. the ultimate value of past project has to be factored with current construction value indices.
Labor wages varies place to put. So, native wage rate ought to be thought-about in calculation. If the project must be started once many months of estimating the project value, the probable variation in wage rates must be thought-about within the calculation.