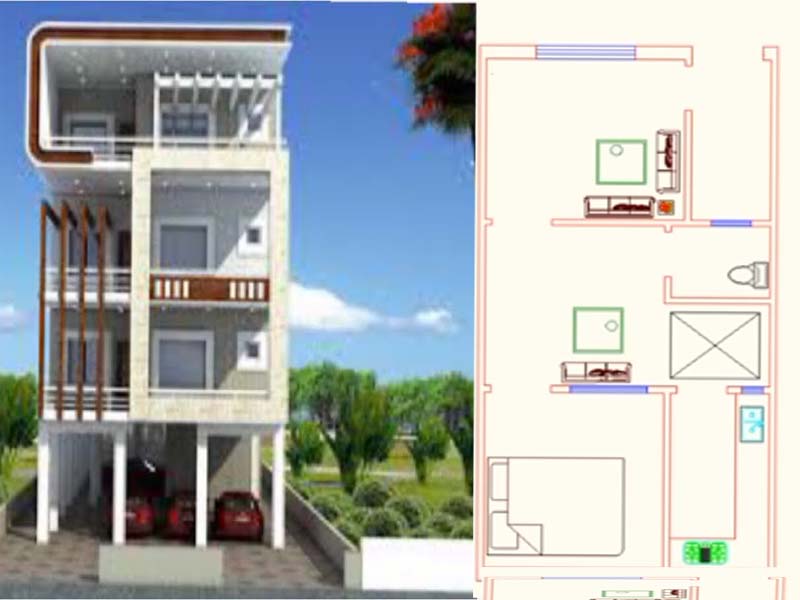 he plan, we are going to introduce today; it has a dimension of 15X30 Home design. Means, it is 15 feet in front and 30 feet is its depth. This plan is specially designed as per the request of viewers, it is one BHK, and they do not need a staircase.
Entry and Parking: The entry of the house starts from parking, this parking space is 4 feet wide and 10 feet long. Here, you can park one bike easily.
Drawing Room: Thereafter, you enter in the house that means the drawing room; drawing room is 9 feet wide and 10 feet long, means the room is made of 9X10. There is a sofa set to provide your guest with complete comfort. If we talk about ventilation, there is a window sizing 5X4. From here, the room gets proper circulation of air and light.
Lobby: In the next step, you enter the lobby, the lobby is 9 feet long and 9 feet wide, it is made of 9X9. In this space, you can keep a sofa set or dining as per your convenient. After dining, you go in the bedroom, the size of the bedroom is 10 feet long and 10 feet wide, means 10X10. Here, there is a double bed.
Washroom: After the bedroom, you enter in the washroom. The washroom is 4X5; it is approx 4 feet wide and 5 feet long. There is some empty place to use as bathing space. If we talk about ventilation, here there is some given, where you can put ventilator sizing 2X3, it will let all smell go out of your house, there will no issues in the house.
Window: If we talk about the ventilation of house and lobby, there are 3 feet wide and 4 1/5 long windows that will allow enough circulation of air and light and provide air and light to lobby as well as the bedroom.
Kitchen: Then, it's time to move towards the kitchen. The size of the kitchen is great as per this size of the house. It is approx 5 feet wide and 9 feet long. There are gas stone and also a sink. The kitchen is very spacious. There will be OTS in the house to let all the air, carbon dioxide and smoke of the kitchen go out of the building.  Additionally, there is a window for air and light, sizing 1X4.
So this is a plot of 15X30, without a staircase. Here, you get a drawing room, kitchen, bedroom, washroom, floor plan, hall, parking space. It is a complete home with all important facilities. The best part is that you can build your home with this structure at a minimal price. You can make your house in 20 lakh with finishing.  Hope, people would find this information important and interesting. Stay with us to read more informative content about the house and building structure. We will be glad to help you.for more details please contact on whatsapp.
Whatsapp:+919567536049
Mail : achahomes@gmail.com