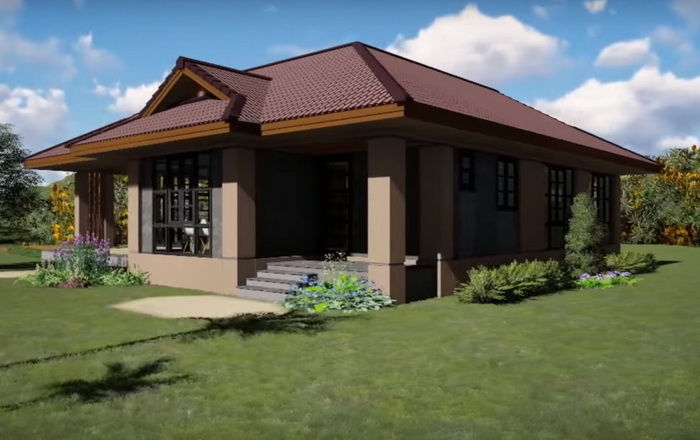 This is a beautiful house plan with an eye catching design. While looking to this house your eyes will notice the roof design and windows.
The roof is slope and grey in color. The dormer windows on the roof give a traditional touch to the house. Also the color combination is very much matching to the wall. The doors and windows made up of glass and that gives a cool look to the exterior.
There are two pillars in verandas which support the roof. The pillars have some grill like structures to enhance the total beauty. The verandah is well designed and very spacious. It is a perfect place for relaxation by watching the outside view.
The front wall has some patterns on the brick that add a charm to the view. The door from the front side opens to the living room. There is another door provided at one side which opens to the dining room.
The garden is designed well with grass and small plants. The plan consists of three bedrooms and two bathrooms. The dining area and kitchen share the same floor which makes the serving of food very easy.
The total construction area of this house is 114 square meter.
General Details
Total Bedrooms : 3
Type : single Floor
Contact:fourwall88@gmail.com
Image source:houseplan-id.com