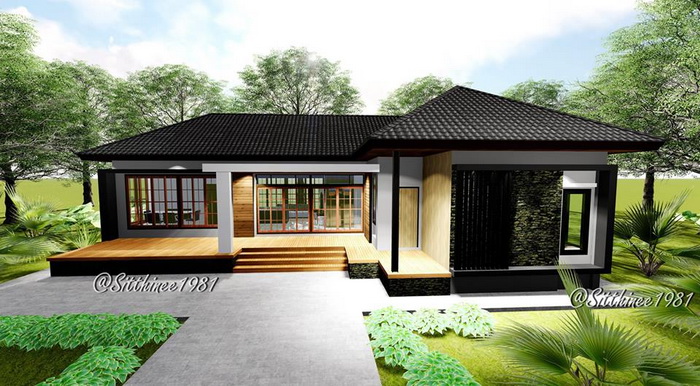 This is a specially designed house plan that might remind you that of a beautiful resort.
The roof is of hip shaped and black in color. This is decorated with black colored tile pattern. While going to the wall one can see the perfect blend of dark and white color. Some area of the front wall is white colored. Some other area is in dark color and is adorned with black lath.
The interesting factor of this house is the design of windows and doors. They are completely made up of plane glass which will allow the first rays of morning to enter in to the house to wake you up.
The floor is wooden finished which not only adds a charm but also give a authentic look. There are three bedrooms arranged in line. The living room is very spacious and the dining area also incorporated in the same floor.
One bedroom is having bath attached facility. The second bathroom can be accessible from the living area. This is a nice work to make your guests more comfortable while having a gathering.
The house is placed in the middle of a beautiful garden. The big specialty of this design is that the touch of green meadows and flower plants give a heavenly look to the construction.
Image source: sitthinee.sitthinee