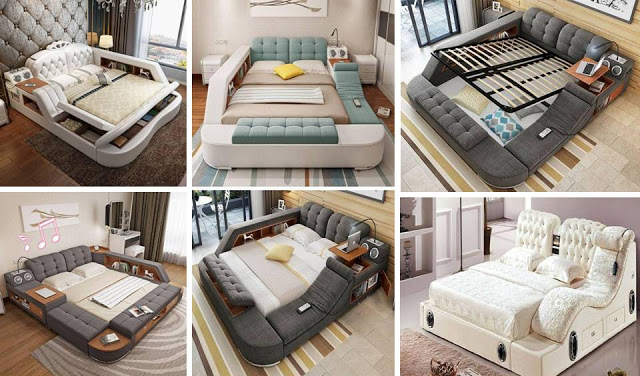 Bedroom is the place where we reveal all the stress and worries of the day. So it should be the most comfortable place in the home.
In modern age the design of  bedroom furniture has advanced a lot. Go through these designs. All luxury and comfort elements are incorporated in a centralized place.
You can become relaxed and go to your sleep by hearing your favorite music here without moving a bit. All your favorite books can be kept here for a free reading at night.
Oh! If any office work is still pending. No worries!!! There is a special place provided here for keeping your laptop. A bed lamp is given with a perfect lighting pattern which would allow you to read without disturbing your eyes.
If you want to sit back and relax while looking to the nature. A small area of your cot can be converted to a perfect seat. If you place the cot at your widow side then you will get an amazing view of the nature also.
There are several cabins are provided for easy storage of your night time dresses and items. Even in some models a small safe is equipped to keep your important belongings. A small foldable tray  is attached for keeping the beverages etc.
Image source:decourunits.com