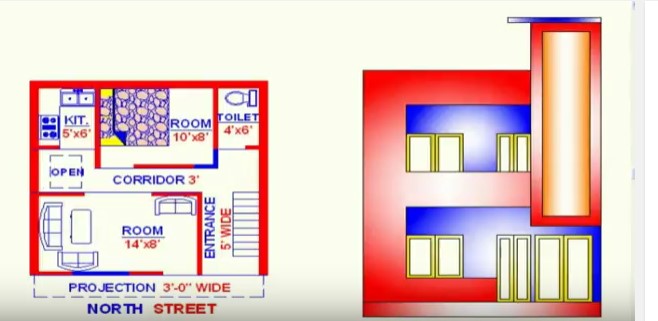 General Details
Total Area : 400 Square Feet
Total Bedrooms : 2
Type :vastu north face house map 20X20
Style : Contemporary
Here is wonderful graphic for vastu north face house map 20X20, which can help you to design your house. We have collected this whole collection of pictures with the help of vastu experts. This is very true that if you want to build your own home and so looking for expert vastu tips than our site can be top resource for you.
  Take the Best Vastu Tips
When you design your house as per the vastu then you house can attract log of abundance in wealth to the occupant. Under the plan the location of main entrance, bedrooms, kitchen, living room, toilet, garden, dining room, toilet etc.
First of all leave more open space towards the North and east, leave some space towards south and West on north facing plot. You should avoid heavy pillar on the North East side in house, try to build maximum number of windows on North or East side. Plan terrace towards the North in open and provide roof slope towards the North or East direction of the house.
If you want to see your house with growing with prosperity that take this vastu north face house map 20X20 and start building your own house.