An exclusive floor plan of 3000 square feet or 60 feet by 50 is an east-facing, Vaastu approved plot with all interior sections properly planned for the family who loves to live together in harmony. Homes that are facing the east are the most likable plots after the north-facing plots by many people, as it is auspicious for the house inmates to bring in positive energy and avoid the negativity enter the house. One of the best architecture team has designed the plot that had not compromised on the quality and had used every inch of space very wisely. Moreover, the plot is located in a very posh area with all the transport amenities, local markets and other essentials within two kilometers. 
General Details
Total Plot Area : 3000 Square Feet
Total Bedrooms :3
Type : Single Floor east facing
Dimensions:60 feet by 50 
(ALSO READ:BASIC VASTU TIPS FOR 30 FEET BY 30 EAST FACING PLOT)
Porch
Now let us go to see the overhead view of the completed east-facing plot. Firstly, at the extreme corner of the plot is the porch area, just adjacent to the entrance of the house where you can park more than two cars at a time with two-wheelers at their sides.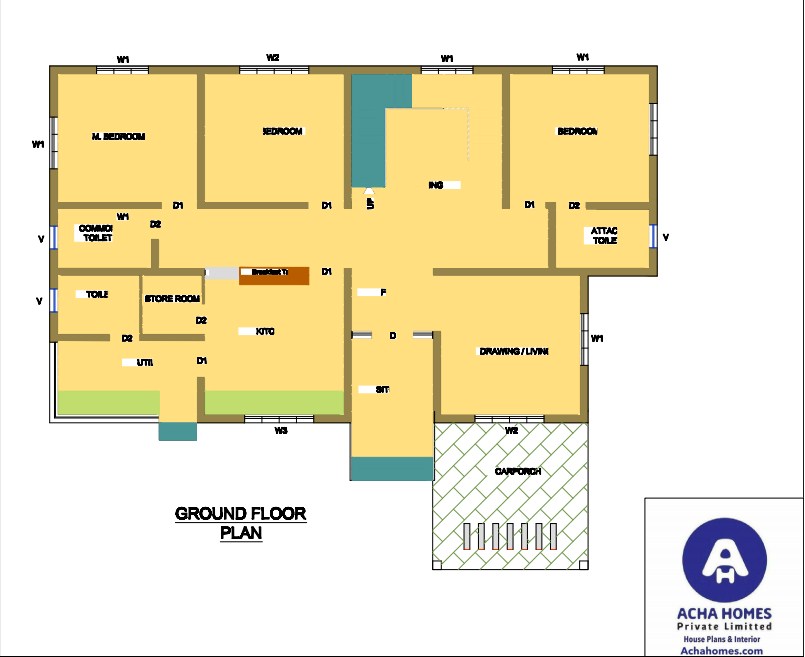 Drawing, dining and the sitting room
The entrance takes you to the sitting place and the drawing-room that is very airy and can accommodate more than fifteen people at a time. Just facing the opposite is the huge dining space with the stairs that leads you to the first floor. 
(ALSO READ:BEST HOME PLAN FOR 16 FEET BY 40 PLOT AS PER VASTU)
Kitchen, utility and the storeroom
For convenience, is the kitchen is at the center of the house to ease the movement that is attaching with the storeroom and the utility room. The toilet at the extreme corner is beside the utility room where you can wash the daily clothes and install the washing machine in the area too. On the other hand, the store is beside the kitchen to sore extra provisions without making your kitchen overcrowded. 
Bedrooms 1, 2 and 3 with a common and an attach toilet
The three bedrooms ate aligned on the west with two toilets at both the west side corner. The bedrooms are of equal size, equipped with proper windows and enough space for built-in furniture on the three interior walls. 
(ALSO READ: WHAT IS VASTU 22'X 27 'SOUTH DIRECTION HOUSE INCLUDING TIPS AND DIRECTION)
In short, the east-facing 60 x 50 feet plot is a unique constructed, modern plot with proper electrical connections and drainage system with a piece of expert advice available providing you high-quality service. Our commitment is to satisfy and fulfill the demands of our satisfying customers that are growing rapidly in numbers. Nevertheless, complete Vaastu approved home plans promise to give you a bright future to you and your family.