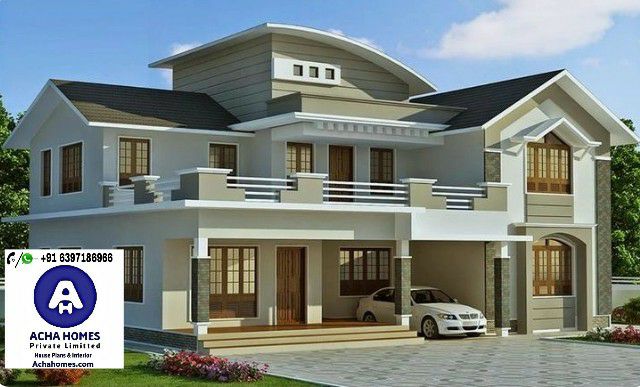 "The simplest questions are the most profound. Where were you born? Where is your home? Where are you going? What are you doing? Think about these once in a while and watch your answers change."
"Home is where the heart is." The very thought of this gives us some beautiful home memories to cherish. From choosing the wall colours every year to choosing the right plants for our balcony to shifting the furniture, specially our beds to new places to revamp the home and all these efforts just to give the house a fresh feel to satiate your soul. But like all of us needs some change in our lives and in the end old is old, we have for you a Stunning 3000 Square Feet Double Floor House with embedded Modern and Contemporary Features. It embarks a mark in the world of homes with its Modernity and Serenity. Located in Beautiful Surroundings, this Home is sure to take your heart away.
Let's Look at its Specifications:
Size: 3000 Sq. Feet

Double Floor

4 Spacious Bedrooms

The 4 bedrooms are complimented by 4 well planned bathrooms for the convenience of the residents.

A Spacious Drawing Room

A lovely Dining Hall to give way to your endless family conversations

A nice lobby

A big Balcony

A well-constructed Parking Area
We know what you are thinking! These amazing features in a single home and in a beautiful surrounding would surely be expensive. But we take care of all our customer's needs which is why we believe in Affordable Style. This Aesthetic, Modern and Contemporary House would cost you just Rupees 35 Lakhs. Looks like your dream deal, so contact us to grab this amazing deal at such an economical cost of Rupees 35 lakhs. Hurry! Do not miss out on this Outstanding Modern and Contemporary home. For a better future, get a better home for a better lifestyle in this box of 3000 Square Feet.
If you need 2D plan, 3D plan and interior view of this house please contact on whatsapp.
WhatsApp:+918592975786
Mail : achahomes@gmail.com
"Peace — that was the other name for home." – Kathleen Norris