Before you start the construction of your house its extermely important to estimate the quantity and cost of the total building material required.
If you have 800 sqft plot and you want to build a house on it, read this article till the end, as we have discussed the total quantity, rates and costs of all the building materials that you need in your house building. So read this article till last to estimate your house building material costs and quantity the right way.
General Details
Total Plot Area : 800 Square Feet
Total Bedrooms : 1
Type : Modern
Contact no:+918408812743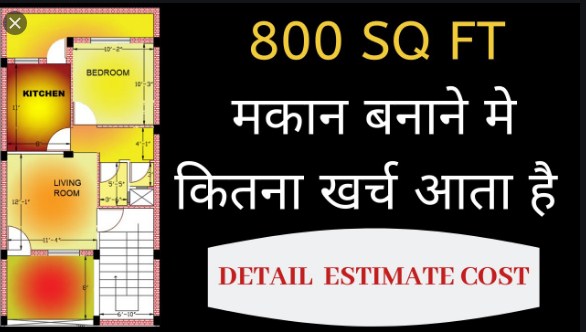 BUILDING MATERIAL'S ESTIMATION FOR A 800 SQFT PLOT HOUSE BUILDING
These are the materials that you'll need in your house construction-
CEMENT
STEEL
SAND
EXCAVATION
FILLING
AGGREGATE
BRICK WORK
LABOUR RATE
VATRIFIED TILES
SKIRTING TILES
CEREMIC TILES
GRANITE
KOTA STONE
PARKING TILES
MAIN GATE
DOOR FRAME
WINDOW GRILL
SLIDING WINDOW
LOAD WINDOW
FALLS CIELING
WATER TANK
WALL PAINT
PLUMBING
ELECTRIFICATION
WATCHMAN/BHISHTY
EXTRA ITEMS
Lets discuss these items in detail.
(ALSO READ:List of 800 Square Feet 2 BHK Modern Home Design)
Est. Quantity, Rate & Cost of Building Materials for 800 sqft.
Here we have listed down all the building material that you know, it's rate and the total cost.
CEMENT: Quantity- 320 bags. Rate- 300rs/bag. Cost- 96,000 rs.
STEEL: :Quantity- 2500 Kg. Rate- 45rs/kg. Cost- 1,12500rs.
SAND: Quantity- 1500 cuft. Rate- 40rs/cuft. Cost- 60,000 rs.
EXCAVATION: Quantity- 1800 cuft. Rate- 6rs/cuft. Cost- 10,800 rs.
FILLING:Quantity- 800 cuft. Rate- 10rs/cuft. Cost- 8000 rs.
AGGREGATE: Quantity- 1100 cuft. Rate- 25rs/cuft. Cost- 24200rs.
BRICK WORK: Quantity- 1800 units. Rate- 6rs/unit. Cost- 1,08000 rs.
LABOUR RATE: Quantity- 800 sqft. Rate- 200rs/sqft. Cost- 1,60000rs.
VATRIFIED TILES :Quantity- 400sqft. Rate- 50rs/sqft. Cost- 20000 rs.
SKIRTING TILES: Quantity- 140 rft. Rate- 25rs/tile. Cost- 3500 rs.
CEREMIC TILES: Quantity- 200 sqft. Rate- 25rs/sqft. Cost- 6000 rs.
GRANITE: Quantity- 80sqft. Rate- 150rs/sqft. Cost- 96,000 rs.
KOTA STONE: Quantity- 320 bags. Rate- 300rs/bag. Cost- 96,00 rs.
PARKING TILES: Quantity- 180 sqft. Rate- 300rs/bag. Cost- 96,000 rs.
MAIN GATE:Quantity- (10*7) sqft. Rate- 500rs/sqft. Cost- 35,000 rs.
DOOR FRAME:
WOODEN DOOR- Quantity- 1 unit. Rate- 10000rs/unit. Cost- 10000 rs.
FLUSH DOOR- Quantity- 4 unit. Rate- 4500rs/unit. Cost- 18000 rs.
FRP DOOR- Quantity- 2 unit. Rate- 3000rs/unit. Cost- 6000 rs.
WINDOW GRILL:Quantity- 70 sqft. Rate- 100rs/sqft. Cost- 7000 rs.
SLIDING WINDOW: Quantity- 70 sqft. Rate- 250rs/sqft. Cost- 17500 rs.
LOAD WINDOW: Quantity- 2units. Rate- 800rs/bag. Cost- 16000 rs.
FALLS CIELING: Quantity- 250 sqft. Rate- 90rs/sqft. Cost- 22,500 rs.
WATER TANK: Quantity- 1000 littre. Rate- 6rs/littre. Cost- 6000 rs.
WALL PAINT: Quantity-____. Rate- 10-15/sqft. Cost- 35,000 rs.
PLUMBING: Quantity- ____Rate- ___Cost- 30000 rs.
ELECTRIFICATION: Quantity- Cost- 50000 rs.
WATCHMAN/BHISHTY:Quantity- 6 months. Rate- 250rs/day. Cost- 45,000.
EXTRA ITEMS: 30,000 rs.
TOTAL COST OF THE CONSTRUCTION- RS. 9,57000
We hope you found this article helpful