Planning and estimating the quantity and cost of the house you are planning to build is extremely important. If you start building your house without any pre-planning, it could be very hard for you to do it right way. It is why it is recommended to estimate the rate, quantity and total cost of the building materials, labors and other resources that you are going to use in your house construction.
600 sqft is not a big area. It's why it's very important that we use this small area the right way. In this article we've shown you the building materials and other resources that you'll need to build a 600 sqft house.
So if you want to build your house in the 600 sqft lang kindly read this article till the end.
General Details
Total Plot Area : 600 Square Feet
Total Bedrooms : 1
Type : Modern
Contact no:+91 8275832374
Building Material Required for 600 sqft House and It's Cost.
Before we really start this article, lets clear the basics first.
(ALSO READ:20 X 30 Plot or 600 Square Feet Home Plan)
What is Building Material in House Construction?
Things that are used in House construction are known as House Building Materials. Following are the main house building materials:
Cement, Steel, Sand, Aggregate, Bricks, Labour Rate, Vatrified Tiles, Ceremic Tiles, Granite. Kota Stone, Door frame, Door, Window, Window Sliding, Water Tank, Painting & Wall Putty, Plumbing, Electrification, Excavation and Filling, Bhishty (Curing), Filling, Wire Cover, etc.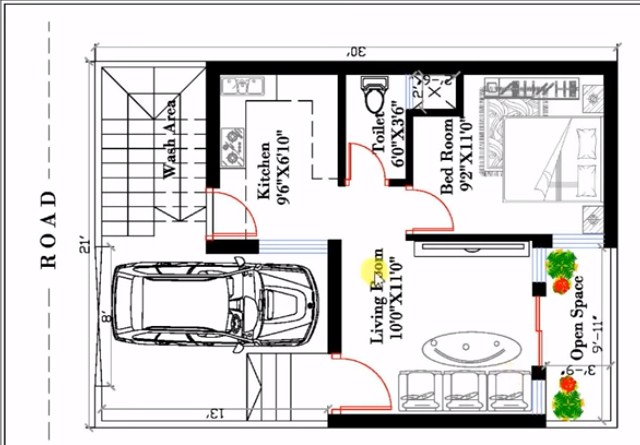 Quantitiy, Rate and Cost of Building Materials
To build a 6000 sqft house, we need the following materials. Rate of them and total cost are mentioned as well.
CEMENT- A bag of cement costs around 300 rupees. To build a house in 600 sqft we need around 250 bags of cement that will cost us near 75,000 rupees.
STEEL- Steel costs 45 rs/kg. We require around 1.5 metric ton (or 15 quintals) that costs us 67,500 rupees.
SAND- It costs 50 rs/cubic foot (cuft) and we require 1100 cuft of this. Thus it costs us a total amound of 55000.
AGREGATE- Costs us 22rs/cuft.We need 700 cuft of this that means it costs us a total amount of 15,400 rs.
BRICKS: We need 12,000 Units of bricks. One brick's rate is 6 rupees that forms a total amount of 72,000rs.
LABOUR RATE: Avg rate of labour is 200 rs/sqft. It costs us a total amount of 1,20000 rupees.
VATRIFIED TILES: These titles are used in Bathroom. 35rs/sqft. 400 sqft vatrified tiles will cost us around 14,000 rs.
CEREMIC TILES: RATE- 20rs/sqft. We need 200 sqft that costs us a total amount of 4000rs.
GRANITE: Rate-150/sqft. Quantity- 17sqft. Total cost- 22500rs.
KOTA STONE: Rate-20/sqft. Quantity- 250 sqft. Total cost- 5000rs
DOOR FRAME: Rate-1800/unit. Quantity- 6 units. Total cost- 10,800rs
DOOR: Rate-3500/unit. Quantity- 6units . Total cost- 21,000rs
WINDOW GRILL- Rate-1800/grill. Quantity- 2 units. Total cost- 3,600rs
SLIDING WINDOW- Rate-2500/unit. Quantity- 2 units. Total cost- 5,000rs.
WATER TANK- Rate-6/litter. Quantity- 1000 L. Total cost- 6000rs
PAINTING & WALLPUTTY- Rate-15/sqft. Quantity- ____ . Total cost- 50000rs
PLUMBING- cost- 14,000 rs.
ELECTRIFICATION- cost- 35,000 rs.
EXCAVATION- Rate- 5rs/cuft. Quantity- 1700 Cuft. Cost- 8,500 rs.
FILLING- Rate- 10rs/cuft. Quantity- 1600 Cuft. Cost- 16,000 rs.
BHISHTY (CURING)- Rate-200/day. Quantity- 6 months. Total cost- 30,000rs
EXTRA ITEMS- cost- 30,000 rs.
+ TOTAL COST OF BUILDING- RS. 6,60,500
PER SQUARE FT. COST- 1100 Rs/sqft