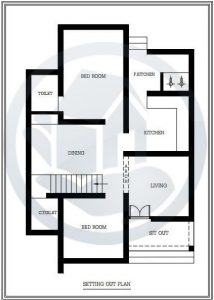 1040 Square Feet Double Floor Contemporary Home Designs
As an expert residential builder for years, we have created a lot of houses in all types of tenure like affordable, stylish, private rent, latest, traditional etc. We would like to make you confirm that our homes plan come in all size, shape and layouts. The people who are working here, they work just to create something different and unique, and they are proud of the positive impact our work for the whole society. The main thing that people choose us for hundreds of thousands of people across the country is that what we produce is simply their home as they want.
Our new double 1040 square feet contemporary home design is the exclusive part of the series, we are providing. This is the combination of latest design with the 2 bedrooms attached bathrooms and a common toilet, and the kitchen is designed in such a way that make the whole home design more impressive. Trust us if you want to work with an excellent contractor to get your own house then we are the best choice for you. As our team is working with full dedication and each member is very collaborative, communicated well and put the client first.
General Details
Type : Double Floor
Total Bedrooms : 2
Total Area : 1040 Square Feet
Style : Contemporary
Construction Cost :
Given home facilities in this Indian house plan
Dining room and family sitting room
Bedroom
Attached dress and bathroom
Common toilet
Kitchen
Store Area
Work Area
Car Porch
Sit Out
Living room
If you are Architect, Engineer or Interior designer, you can send your works to plan achahomes@gmail.com we will publish on our website, Its really free of cost.