Painting a room is a very easy way to completely change the look of a room. Interior painting becomes more simple and cost-effective if you do it yourself. And, we must say that there is no better and affordable way to freshen up rooms than with a new coat of paint. The best thing is that the painting is not difficult and it doesn't need specialized training and experience. Any able homeowner can paint room their self, all you need is a little patience, practice and some strong and helpful advice.
Follow These Steps
Prepare the Surface Properly
The successful paint work begins with properly preparing the surface that you are going to paint. Regardless of its cost, color, thickness, or the manufacturer's claims will cover a pockmarked surface. s
When it comes time to pain, here we are providing some simple strategies that will help you to paint a wall yourself.
The priming walls and ceilings are mandatory whenever you are going to paint new drywall or paint over a dark color. But, it is the smart way when you are going to paint. First, it blocks stains from  bleeding through.  Second, this will allow one-coat coverage for the paint. The third one is to improve paint adhesion that greatly reduces blisters and peeling.
Canvas is Better than Plastic
The plastic cloths will provide  a cost-effective method to protect floors and furnishing from the paint spatters. But it will be much better to invest in the Canvas. The Canvas is extremely durable and rip-resistant. It will lay flat and present much less of a tripping hazard.
Canvas is very good as it absorbs paint drips, unlike plastic drop cloths that become slippery when spattered with the paint. The Canvas drop cloths can be easily folded around corners and doorways, something that is just impossible to do with the plastic sheeting. Most of the plastic drop cloths will last for the lifetime.
Extension Pole
Extension poles come in different lengths, up to 18 feet long. You need to check that your paint roller's handle has a threaded hole in the end.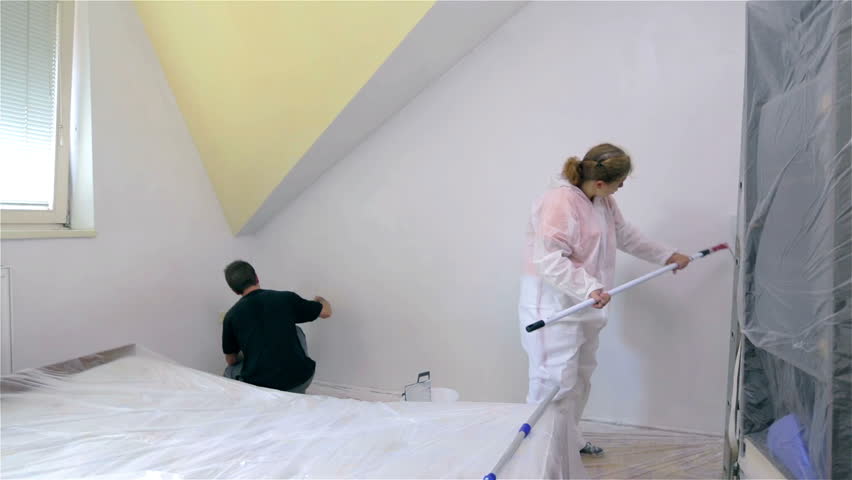 You Need to Wait for the Dry Weather
Humidity means drips and slow drying, so you need to avoid painting on a rainy day. This is the strong advice while we are talking about how to paint a wall yourself, you should paint when it is humid. Take your time and take the advantage of slow-drying paint to correct the error.
Do a through Visual Inspection and Preparation
Before you go to apply new primer and paint, because of the weight of the new coat will be helpful to pull the old paint loose. You may need to spot a bit of washing with the soap followed by the rise with clean water.
Buy High-Quality Brushed, Roller Cover and the Tape of Painter
Go do brushed and roller covers give the excellent coverage so that you don't have to waste your time and paint on re-application and the high-end painter's tape.