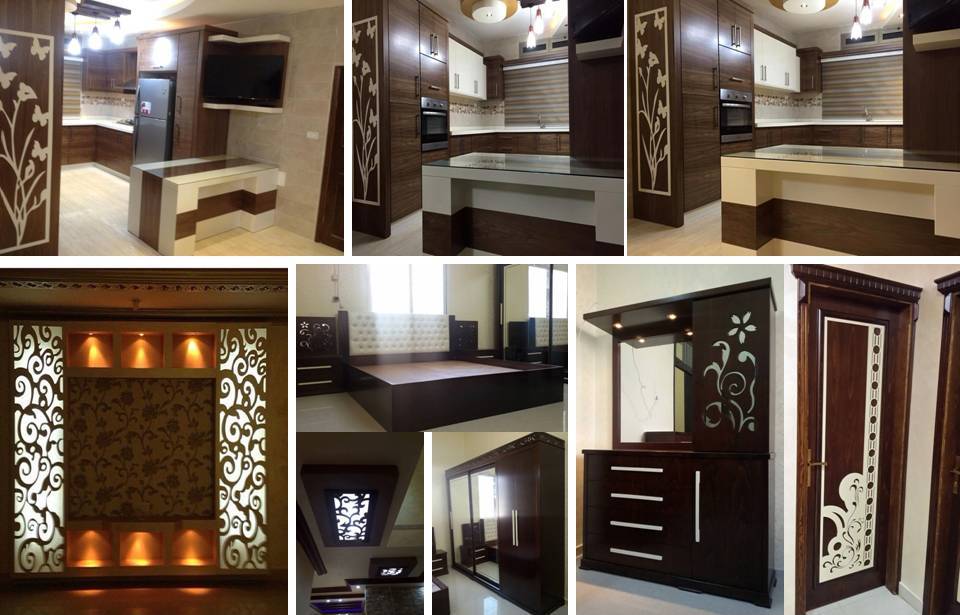 Brown wood furniture is a perfect combination for the light colored wall. It gives a special look to the entire interior.
Here designed Brown wood furniture and wardrobes are used in the interior. The white cot having cnc design made of brown wood. The shelf is also having Brownwood design which is correctly matching to the color combination of the cot.
The kitchen is equipped with all modern amenities. Brown wood is used here to furnish the kitchen boxes and wardrobes. It gives a classy touch to the kitchen in a first glance.
Separate cabins are provided for oven and burners. The kitchen boxes have a great color combination of brown and white. Roof is decorated with Brownwood craft. Pendant lighting system is used here for added charm.
The white art on the brown cupboard is really stunning. Refrigerator is kept at the special provision which saves a lot of space in the kitchen.
Designed tiles are used at the washing sink. Mirror is fixed in a Brown wood frame.
The Brown wood cabinet is suitable for dressing corner which is having mirror and make up cabin. The white design on the Brown wood door is very attractive.
Brown wood crafted designs also available for ceiling. Here the well designed lighting system makes the room outstanding.
Image source:decourunits.com