An Exclusive Mansion for a Big Family
An extraordinary floor plan of 29' x 56', facing the north to the main road constructed for a big family with airy rooms leaving enough walking space. There is enough scope left for the interior designer to furnish the rooms with wall cabinets, accessories and other furniture properly occupying the space.
General Details
Total Plot Area : 1624 Square Feet
Total Bedrooms : 2
Type : single Floor east facing
Dimensions:29 feet by 56
Porch:
The entrance of the house leads you to the 16'4" x 17'3" porch or the parking place where you can line two cars at a time with 2 motorbikes by the side. Just opposite the porch is the flight of stairs, which goes to the hall. Beside the stairs is a common toilet of 4' x 6'6" which can be used by the house guests.
(ALSO READ: TOP TRENDS IN 1000 SQUARE FEET HOUSE PLAN FOR 2019)
Hall:
There is a big 19′ x 11'3″ hall, which is quite big and spacious. Here you can install a six-seater sofa set with an artistic center table, TV cabinet and proper lighting with few figures that will make it look attractive and more appealing. You can have a small get together here for 10- 15 people. The hall is a center of the house and is comfortable for 7-8 family members to sit in the evenings and watch TV together.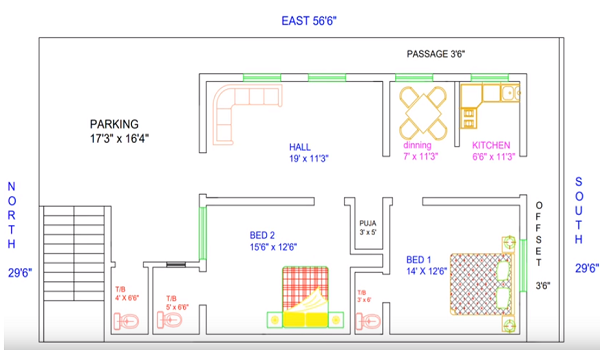 Bedroom no.2
Just opposite the hall, is a big, luxurious 15'6" X 12'6″ bedroom with an attached toilet and bathroom. This is a very big bedroom where you can put a king size bed with wall cabinets and a dresser.
Dining room
Just adjacent to the hall is 7' x 11'3" dining space, which is properly, ventilated with well-equipped 4'4" size windows on one side of the wall.
(ALSO READ: WHAT IS VASTU 22'X 27 'SOUTH DIRECTION HOUSE INCLUDING TIPS AND DIRECTION)
Kitchen 
Just parallel to the dining room is 6'6" x 11'3" kitchen. You have the liberty to remove the wall between the kitchen and dining space making it bigger and easier for the inmates. The kitchen cum dining room is well equipped with two 4'4' windows.
Outside the kitchen, there is 3'6' empty space or a compound made for proper movement.
(ALSO READ:BEST HOME PLAN FOR 16 FEET BY 40 PLOT AS PER VASTU)
Bedroom no. 1
From the dining room, you enter straight to 14' x 12'6" bedroom with 3' x 6' attached bathroom. The bedroom is quite spacious and ventilated with windows at the bedside. Here you can keep a king-sized bed with a dresser, make wall-to-wall cabinets with a TV unit.
Puja room
The 3' x 5' Puja room is in between the two bedrooms, which opens at the hall.
I have discussed the room plan of 1624 square feet plot, which can own by a big family. The artistic synchronization of the rooms and its features made by the home planner makes the house very spacious and well ventilated. Surely, it is a very good plan made with the proper utilization of space.
Hope you like it.