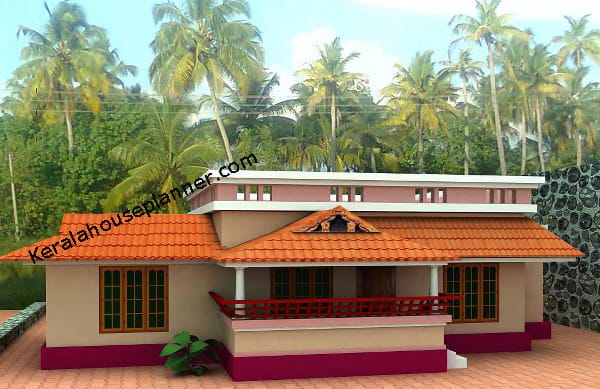 Here is a simple design of small house in 1000 square feet (See 1000 square feet Modern Home Plan). The home consists of three bedrooms in which one of them having attached bath facility. Only one toilet facility is provided in this design.
The total house is constructed in an area of 1000 square feet (See 1000 Square Feet 3DHome Plan With 2 Bedrooms) . The design also consists of living room, dining room, sit out and kitchen. The small home is ideal for a small family
Few more Kerala style small house plans also provided here for your review. One of these designs consists of two bedrooms with attached bath facility. The dining room is placed exact centre of the home that having easy access from both living room and kitchen.
A stair is provided in the living room to the utility space of the terrace. A car porch and sit out also incorporated in this design.
Another simple design that having an eye catching view also given here. The entire home is having a traditional look due to its design. The roof tiles are used here and the hand rail of the sit out is really amazing. The color combination of the wall-roof and base gives it a beautiful look.
An open terrace also provided in his design.
Imge source:keralahouseplanner.com
General Details
Total Area : 1000 Square Feet
Total Bedrooms : 3
Type : single Floor
Aminjikarai,Chennai-29
Mob : 09444122276