An eye catching Mansion
An attractive plan of 2000 square feet that portrait suspicious place for a big family with good ventilation this extraordinary plant can accommodate interior designs to all the rooms with beautiful accessories and Masterpiece furnitures.
General Details 
Total plot area: 2000 square feet 
Type: Two floors 
Ground floor :
Bedrooms : 2
Living room : 1
Kitchen room : 1
Namaz room : 1
Work area : 1
First floor :
Bedrooms : 2
Living room  : 1
Car porch 
The entrance takes you to a 7'0″*12'9″ big car porch facilitating the city of two cars with motorbike .
(ALSO READ:BEST HOME PLAN FOR 16 FEET BY 40 PLOT AS PER VASTU)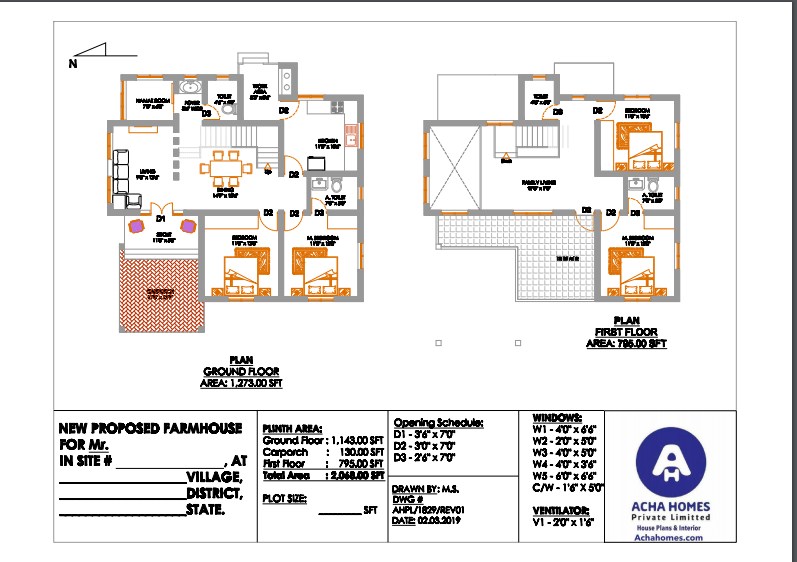 Sit out
Just opposite to the porch is a set of staircase that leads you to a set out , Dhadkan have to special stress with beautiful pots are the sides. 
Living room 
The sit out has an entrance to the living room of 9'0″*12'6″.Such a living room can accommodate a 3+1+1 seater sofa set with Centre table attractive lightings with attached TV cabinet can enhance the beauty of your living room.
(ALSO READ: WHAT IS VASTU 22'X 27 'SOUTH DIRECTION HOUSE INCLUDING TIPS AND DIRECTION)
Dinning room 
Living room is connected to the dinning room of 14'9″*12'6″ further ,this room can can have more than 6 members. Your antique dining piece can be placed at the centre that can have attractive lamps at the top to make the meal time more fun with your loved ones. This kind of a room is so spacious that the children can move about easily .
Kitchen 
The dinning area towards its right connect to the kitchen of 7'0″*10'6″.The kitchen is so spacious with beautiful cabinets in it making it less stressful for the people using it. 
Namaz room 
Left of the kitchen connects to the 7'0″*6'0″ Namaz room and a toilet of 4'6″*6'0″with a foyer of 3'6″ wide . The spacious and peaceful ambience of the Namaz room makes it more comfortable for its users to perform the salah .
Bedrooms
The passage between the dinning and the kitchen has two bedrooms of 11'0″*12'0″, the one near to the kitchen has a toilet of 7'0″*12'0″ . The bedrooms are provided with windows at the bedside that keep them well ventilated king size bed along with the dresser and to bed lamps can make it more presentable to live in. 
(ALSO READ:55 by 65 feet Duplex Dwelling House for two Households at North Facing)
Work area
The beautiful kitchen along with cabinet has a connection to the work area of 5'3″*8'6″.such a work area can accommodate two people along with their material to work on effectively and comfortably.
(ALSO READ:20 feet by 44 feet West facing Double-Edged Duplex House for two Families)
First floor 
The dinning room has staircase that leads you to the 17'0″*7'9″ living room of first floor. The right of living room takes you to the terrace that has a beautiful place to have evening tea under the blue sky further  the left side of the living room takes you to the toilet of 4'6″*6'0″ that is used in common . Along the passage there is a master bedroom besides the terrace of 11'0″*12'0″ with a attached toilet of 7'0″*5'0″.
Hope you like it, we at acha homes try to make house plans according to our customers requirements.