Well if you'll try your best, then also you can't tell me a place which can be as comfortable as our home Dream home. So, according to the changing lifestyle and interior demands, it is an important part to get yourself the best in the class home according to your family requirements in your budget.
In fact, you don't need to spend too much money to acquire a decent home. Nowadays, it's budget-friendly too. A lump sum amount of 30 lakhs is required for the construction of your dream home. 
(ALSO READ: Best House Plan for 2000 Square Feet as per Vastu)
General Details
Total Plot Area : 2300 Square Feet
Total Bedrooms : 4
Type : Double Floor for TWO FAMILY
CONSTRUCTION COST :30 LAKHS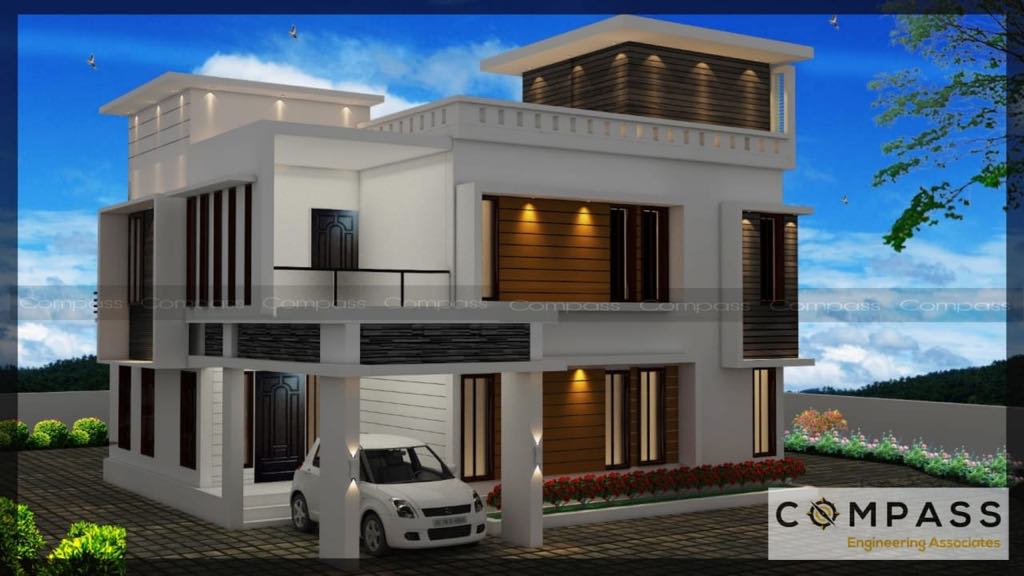 TOP 5 ADVANTAGES OF WEST FACING 4 BHK HOUSES 
Best 4 BHK home designs are the top most priority of a family nowadays. Though there are uncountable reasons, but we'll discuss some of the important ones. 
(ALSO READ:Modern style Home Design and Plan for 3000 square feet Duplex House)
1- BUDGET FRIENDLY
This is one of the topmost reasons why 4 BHK homes are preferred. The construction cost of a 3 BHK and a 4BHK is almost the same. But it's more spacious as compared to any 3 BHK. 
So, customers usually prefer to go with 4 BHK instead of a 3 BHK house. 
2- BEST FOR THE CONJUGAL FAMILY 
These homes are best for the small family size because it has excellent space according to the requirement as well as you don't need to put much effort in it's day to day maintenance such as cleaning and all.    
3- LOW MAINTENANCE COST
Why spend more on maintenance even when it's not required at all. A 4 BHK house plan is best for nuclear families and the maintenance cost is affordable too. 
So, if you'll go for a villa or even a bigger house then, get ready to pay for high maintenance even when you are not using the extra space properly.
4- RUMOUR ABOUT THE WEST FACE HOUSES
There is a rumor about the west face houses is that they are comparatively less productive than any other side. But, this is just a myth nothing else. So, many people took advantage of this myth and purchase a house at any preferred location and comparatively less price.
So, if you are also thinking the same then, remove this myth from your mind and buy now. According to Vastu Shastra, sides hardly matters. It just focuses on the interiors, not the alignment. 
(ALSO READ:20 feet by 44 feet West facing Double-Edged Duplex House for two Families)
5- MULTIPLE BATHROOM  
Multiple washrooms are the most fruitful feature that a 4BHK house has. There are some situations where more than one family member needs to use the washroom at the same time. So, at that point, multiple washrooms came to the action. 
If you have more than one kid then you could easily understand the situation. Both of them need to get ready at the same time.  
FINAL WORDS
This is the crystal clear explanation that why you go with a 4 BHK house preferably of west side facing. Multiple factors are there which explains the same. What else you need is to invest some extra money in its interiors too according to your requirements. 
After that, you'll get a dream home at an unbelievable cost. Thanks for your time